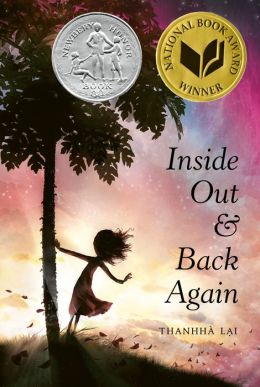 I just met Thanhha La, the author of Inside Out and Back Again, which you should definitely read. That woman is SO cool! She has the humor to last you a lifetime, to put it simply- pretty much unlike me. Since nobody understands the strange sense of humor that has been running down the family lines for the last million years, and since I am stuck inheriting it. Unfortunately.
Inside Out and Back Again is a story that takes place during the Vietnamese War, about a girl named Ha, her mother, her three brothers, and the memories of her missing-in-action father. Ha comes from being a joyous Vietnamese, papaya-loving girl living in south Vietnam to becoming somebody who feels as if she isn't recognizing her own self. At the peak of the war, Ha's family makes the trip and comes to the United States, in Alabama. There, she tells about the struggles of learning English, figuring out that her host was not a cowboy, and standing up to Pink Boy the bully. It's written in poetic verse, but is very understandable.
When I read the book, even though it was amazing, I didn't really understand just how fascinating Thanhha La herself was. Her humor is, like I said before, to the moon and back, but what I personally find the most interesting about her is the fact that she actually lived through the experiences she describes in her only novel. Especially her love of papayas.

Well, okay. Beyond that. I made a whole set of moodboards today. Just because. I'm getting into holiday/vacation mode, I guess.